I decided, at the spur of the moment (with eight hours left to enter!) to join this week's challenge at the Birthday Sundaes blog.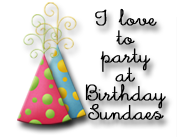 So, in true form, I hurriedly did a birthday card...and am actually pleased with the results!
The challenge was "get messy." I've never done the splattered paint deal, so I was a little nervous to make the entire card, splatter it...and ruin it. But it turned out cuter than I expected! Winning!!
Here is my entry:
And for the bestie...:
Head over to the
Birthday Sundaes blog
and check out the great DT and fantastic entries!